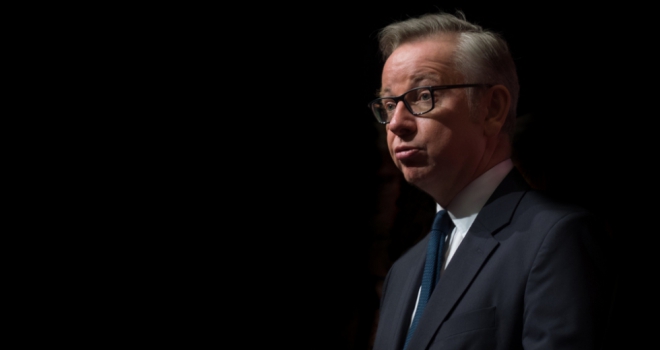 The seemingly never-ending revolving door to the Housing Secretary's office has spun again, unceremoniously flinging out Robert Jenrick and hauling in Michael Gove, fresh off the dancefloor of a nightclub in Aberdeen.
It is widely believed that Jenrick, who was sacked after two years in the job, was due for the chop following the approval of a £1bn development in East London the day before it would have cost developer, Richmond Desmond, £30-50m more. Desmond subsequently donated to the Tories leaving Jenrick to fend off mounting allegations of "cash for favours".
Michael Gove moves from his role as The Chancellor of the Duchy of Lancaster to Secretary of State for Housing amid reports that he joked about paedophilia within top levels of government and used racist language in a series of remarks in his twenties.
According to several reports in the press this week, Gove used the term "fuzzy-wuzzies" when referring to people living in countries colonised by the British, made inappropriate sexual jokes about Conservative minister Lucy Frazerand, and called late former Tory minister Sir Leon Brittan a paedophile.
Industry reaction to the new appointment has so far been positive.
James Forrester, Managing Director of Barrows and Forrester, commented: "The government housing carousel continues to turn as yet another one bites the dust and it remains to be seen if there will be further casualties further down the ranks.
"Michael Gove is known as a Whitehall big hitter with a reputation for rocking the boat so we may well see some changes. However, the reality is probably more of the same tired, recycled rhetoric around housing policy.
"Expect to see more initiatives focussed on fuelling buyer demand to keep house prices buoyant and very little in terms of actually addressing the need for more housing.
"In recent times, those charged with addressing the current housing crisis have lasted less time in their post than it takes to sell a house. No wonder the sector has been riddled with scandal and an inability to reach housing targets."
Ben Beadle, chief executive of the NRLA, said: "We welcome Michael Gove to his new position and look forward to working with him to ensure the rental market works for responsible landlords and tenants alike.
"Key to this will be addressing the supply crisis in the sector by developing pro-growth policies that recognise the vital contribution it makes to housing millions of people across the country."
Nick Sanderson, CEO, Audley Group, said: "Top of Michael Gove's agenda has to be aligning the housing and health departments.
"Under too many of the past leaders, these departments have operated in a fragmented way, ignoring holistic solutions which have the potential to tackle both the housing and social care crises. The need for change is urgent but it must be meaningful, bringing together housing, health and social care under one banner, marking a radical shift towards solving issues at their root.
"Building more specialist housing would have far-reaching implications: freeing up existing family homes, taking pressure off the NHS and social care systems, and importantly giving older people suitable and aspirational housing that adapts to their changing needs.
"For me, the greatest disappointment would be seeing more of what we have come to expect from the housing department. A focus on first-time buyers that ignores other vitally important parts of the housing market."
Marc Vlessing, Chief Executive Officer of Pocket Living, comments: "The new Secretary of State has inherited his brief at a critical juncture, with a series of radical reforms currently held in stasis due to significant resistance from within a governing party unconvinced by the manner and need for change.
"Yet this is not the time to be timid or seek to reverse away from the fundamental issue the reforms seek to address. The UK's housing market is dysfunctional and real change is needed. At Pocket Living, we have been innovating, experimenting and pushing the boundaries of housing further and wider than most, and we will continue to do so irrespective of the barriers along the way because the country and particularly its young people need it.
"Now is the time for Secretary of State to be true to his instincts and demonstrate once again his radical zeal in not only proposing genuine innovation and reform but crucially securing both industry and political support to deliver them. The stakes are high for the government, but so are the rewards through rising to the challenge by being radical, bold and truly innovative in unlocking growth and housing opportunity. Here we stand ready to assist in meeting that challenge"
Nathan Emerson, chief executive of Propertymark, said: "We welcome today's appointment of Michael Gove as the new Secretary of State for Housing. Over the past 18 months housing has been high on the political agenda, with the long term Covid-19 inflicted stamp duty holiday and evictions ban due to close at the end of the month.
"We look forward to meeting the new Secretary of State and his team over the coming months and hope the Department's position and policy focus stays on track."