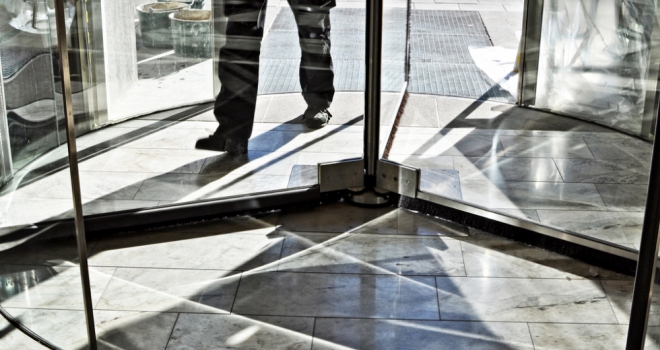 "After just 279 days in the role Housing Minister Rachel Maclean has been sacked by the Prime Minister in what has become another manic Monday for the Government"
- Nick Leeming - Jackson-Stops
Rachel Maclean has become the latest in a long line of Tory MPs who are no longer Housing Minister.
The Redditch MP expressed her disappointment on X (formerly Twitter), saying that she had been "looking forward to introducing the Renters Reform Bill to Committee tomorrow and later the Leasehold and Freehold Bill", but had been asked to leave her role.
She added it had "been a privilege to hold the position and I wish my successor well".
Enter number 16
North East Derbyshire MP Lee Rowley is that said successor and no stranger to the job after enjoying a six-week stint last year and becoming the last of four Housing Ministers for 2022.
Rowley was previously DLUHC's net zero minister and has become the 16th housing minister since the Conservative Party came to power in 2010.
Before becoming net zero minister under Rishi Sunak's government, he was briefly housing minister in Liz Truss' short premiership.
As you would imagine, the property industry was quick to react to the news. Here's what they're saying.
Nick Leeming, Chairman of Jackson-Stops, comments: "After just 279 days in the role Housing Minister Rachel Maclean has been sacked by the Prime Minister in what has become another manic Monday for the Government. The timing for a new housing minister couldn't have been worse, with Maclean due to introduce the Renters Reform Bill tomorrow, and the Chancellor's Autumn Statement less than two weeks away.
"With recent news that housebuilding has fallen to its lowest level since the financial crisis, there is mounting pressure for the Government to produce a reliable and experienced figurehead for this role, and quickly. House prices are often a barometer of the health of the wider economy, giving challenges as well as opportunities ahead of the next general election.
"Meanwhile, the sector remains hopeful that the Chancellor can offer a sense of stability and structure on November 22nd where other departments cannot."
Michael Cook, Group Managing Director of Leaders Romans Group said: "When Theresa May first introduced the idea of a Renters Reform Bill in 2019, Gavin Barwell was housing minister. After 11 months in the job, he was replaced by Alok Sharma (7 months), then came Dominic Raab (6 months), Kit Malthouse (1 year), Esther McVey (7 months), Chris Pincher (2 years), Stuart Andrew (5 months), Marcus Jones (2 months), Lee Rowley (7 weeks), Lucy Frazer (3 months) and Rachel Maclean (10 months).
"With a general election likely to take place in approximately a year's time, Lee Rowley - the 16th minister to have had the housing remit since the Conservatives took office in 2010, and the eighth since the 2019 general election – has under a year to get this hugely important piece of legislation on the Statute Book. That said, with this run of housing ministers each lasting an average of just eight months, we may see a further change before the next general election.
"Most importantly, the Renters Reform Bill as it currently stands is in need of substantial amendments before it is enacted.
"We wish Lee Rowley well as the Oral Evidence on the Renters (Reform) Bill begins in committee tomorrow. It will not be an easy task to get up to speed in 24 hours, but the advantage of the 'revolving door' of housing ministers is that he may have some recollection as to why reform is needed and the delicate balancing act needed to achieve it.
"Conversely, at LRG we place high value in longevity in leadership, with the same Sales and Lettings MDs still working within the business through minister one all the way through to 16!"
Paresh Raja, CEO of Market Financial Solutions, said: "The merry-go-round continues. We are about to welcome the 16th housing minister since 2010, and while the chopping and changing of ministerial positions has become all too common across the board in recent years, the level of turnover in this particular role is a notable concern.
"Creating clear and consistent policies – let alone delivering on them – is inevitably difficult with such frequent changes in personnel, and this impacts homeowners, buyers, renters and investors alike. A sense of stability is important in virtually every industry, and the property sector would certainly benefit from an extended period with a single housing minister, although this is only likely after the next general election."
Paul Stevens, Executive Director at specialist financial advisory Centrus, comments: "Despite being the portfolio most in need of longevity and consistency, the UK Government now welcomes its 16th Housing Minister since 2010. With a likely election next year, Mr Rowley is set to serve a limited term – but this does not mean he cannot make vital changes.
"Social and affordable housing must be a focus. Rent settlement for this year, and ideally for the future, is critical to give housing associations some certainty in their budgeting and planning, which in turn will enable them to confidently invest for the future.
"Short-termism gets us nowhere; a long-term plan which allows housing associations to deliver in partnership with local and national government cannot wait."
Ian Fletcher, Director of Policy, British Property Federation, said: "We welcome the appointment of Lee Rowley as the new Housing Minister and wish him well in the role.
"While he will have a full in-tray to deal with, not least Renter's Reform, Leasehold Reform, and a large number of planning issues, at least he is already sighted on the strategic issues facing the Department and has a strong understanding of local government and the need to ensure that planning and place-making is well resourced within that.
"We particularly welcome his embrace of a multi-tenure approach to housing supply, which is pragmatic in recognising the contribution that sectors like build-to-rent, PBSA, and retirement living can make. Overall we hope that he puts his experience to maximum effect representing the views of our sector ahead of next week's crucial Autumn Statement."
Marc Vlessing, Chief Executive, Pocket Living said: "At a time of market stagnation, with housing delivery numbers falling off a cliff and with SME housebuilders facing a very bleak future, we have the instability of yet another housing minister appointed to the brief. What we really need is political stability and a resolute focus on tackling the housing crisis and getting new homes built, not a presentational government reshuffle.
"With only a year to go before the likely general election, there is hardly any time for a new minister to learn the brief, build the relationships, and make a meaningful difference. This is yet another deeply unhelpful distraction from the delivery of urgent planning reform this country needs to build more homes."
Melanie Leech CBE, Chief Executive, British Property Federation: "The revolving door of housing ministers has turned once more. For a sector that thrives on certainty and wants to see a long-term plan for housing, such discontinuity in personnel is a significant concern and actively undermines investment and long-term commitment across the sector.
"The Government is facing numerous challenges in reviving stalling housing supply, plus delivering the critical infrastructure required for future economic growth and carbon reduction.
"To meet those challenges we require political stability and continuity in decision-making. Minister Maclean leaves with our thanks, as someone who was hardworking, engaged, and who took a deep interest in the benefits of good housing."
Nick Sanderson, CEO of Audley Group, commented: "The appointment of David Cameron to the Cabinet might garner the headlines, but it shouldn't detract from the revolving door that is the UK's Housing Minister. Rachel Maclean being relieved of the role means we are due the 16th Housing Minister since 2010, and the seventh in just two years.
"The housing market needs reform, and that's difficult to achieve without any kind of stability. Lack of in-depth knowledge about the housing market leads to knee-jerk decisions to increase housing supply and focus on first-time buyers, rather than holistic possibilities that increase supply and flow within the market.
"Let's hope the next appointment is the last for a while so the focus can turn from personalities to real progress."
Lawrence Turner, Director of Boyer said: "As Lee Rowley takes office, it is imperative that he urgently address the issue of nutrient neutrality to unlock much-needed housing delivery in the country. A solution to nutrient neutrality is a crucial aspect of unlocking the estimated 150,000 homes that are delayed in the planning system. Nutrient neutrality is the single most significant block on housing development in the UK. A failure to tackle this problem is delaying the delivery of at least 45,000 much-needed affordable homes.
"As the Planning Minister, Lee must prioritise tackling the housing crisis and delivering sustainable housing development closer to where people live and work. This means taking bold steps to address the shortage of affordable housing, as well as promoting the construction of new settlements to accommodate a growing population. Greater focus should also be placed on the sustainable release of Green Belt land, as well as the development of well-designed housing to meet the diverse needs of the population.
"It is essential for Lee to take decisive action in reshaping the housing landscape in the UK by working closely with local authorities, developers and local communities. By addressing nutrient neutrality and focusing on sustainable housing development, he has the opportunity to demonstrate strong leadership in balancing the needs of the community and conserving the role of the Green Belt."
Simon Gerrard, Managing Director of Martyn Gerrard Estate Agents, said: "It comes as a great disappointment, but frankly little surprise, that the housing brief has yet again changed hands within this government.
"There will be a collective groan of 'here we go again' from those of us working in the property sector, and indeed anybody with a vested interest in the housing market. We're now onto our 16th housing minister since the government came into power 13 years ago.
"How can any long-term progress be made on reforming our planning system, solving the housing crisis, and ensuring our children have homes to live in when we have such a shockingly high turnover of ministers tasked with tackling these issues?
"I'm beginning to question the point of having a ministry supposedly dedicated to building new homes, when in reality, providing people with places to live clearly couldn't be further down the list of priorities for this government. The department is frankly a joke, and it is regrettable that the punchline is that this country remains in desperate need of new homes.
"I hope that at some point we will actually see a housing minister remain in post for the length of time it takes for a planning application to build a new home to get through our planning system. For now, it seems, I remain hoping in vain."