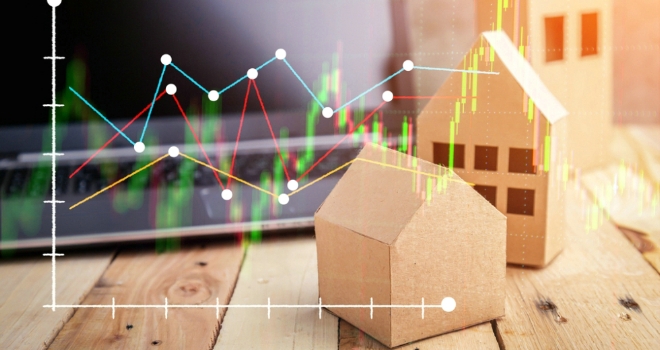 This morning's figures released from Halifax have revealed that, despite house prices falling for the second consecutive month in July, the dip of 0.2% is no cause for alarm and the market remains steady.
Halifax revealed that between May and July, house prices were 0.4% higher than in the preceding three months.
Quarterly price growth was 4.1% higher than in the same three months in 2018, however Halifax noted that the annual figure comes against the backdrop of low growth last year, which has impacted year-on-year comparisons.
Russell Galley, managing director of Halifax, said: "The average UK house price fell slightly for a second month, as the market continues to tread water with marginal increases or decreases in each monthly period. That said, it's worth remembering that while economic uncertainty continues to weigh on the market, the overall trend actually remains one of comparative stability, with average prices down by less than £600 over the last three months.
We have seen a reported drop off in the number of properties sold during the early months of summer, which may lead some to speculate a downturn is on the horizon. However, new buyer enquiries are up, and favourable mortgage affordability – driven by low interest rates and strong wage growth – should continue to underpin prices for the time being.
In the longer-term, we believe there is unlikely to be a step change in market activity until buyers and sellers see some form of resolution to the current economic uncertainty."
As ever, the property industry was quick to react. Here's what they're saying:
Marc von Grundherr, Managing Director of Benham and Reeves, said: "Are we seeing a further indictment of Brexit paralysis? Or is this a seasonal blip given that the summer months simply tend to see lower demand? I favour the latter especially given that the numbers that we really should focus upon here are the quarterly and annual figures. For the UK property market to have seen year on year growth of over 4% despite the best endeavours of our politicians to de-rail public sentiment, has to be viewed as at least resilient - perhaps even astonishing".
Shepherd Ncube, CEO of Springbok Properties, comments: "The problem with these indexes is that they paint a very generalised picture of the property market. Almost nowhere in the UK is performing at the 'averages' seen here with London and the South East continuing to drag the national data down with significant decreases in value. The north though, in contrast, is indeed a powerhouse currently with house prices running ahead at 'non-Brexit' rates. Is it a coincidence, I wonder, that many of these areas were Leave voting?
Regardless, my money's on a post-Brexit bounce and, should the new PM actually deliver an EU exit on October 31st, whilst this may not sit well for many, it will at least draw a line in the sand for hesitant house buyers and sellers and perhaps restore our battered market to some normality thereafter'"
Colby Short, CEO of GetAgent, had this to say: "The media may well report today's Halifax numbers as doom and gloom given the monthly drop. But is property a safe bet in the long term? History tells us that this is so and frankly, perhaps we should pay less attention to the numerous indexes that are forced down our throats as starkly indicative when, actually, they affect only those looking to sell right now and, in this market, that's far fewer people than is usual"
Mark Harris, chief executive of mortgage broker SPF Private Clients, says: "It is still very much steady as she goes for the housing market. The summer is always quieter as people head off on their holidays but with new buyer enquiries up, there are encouraging signs that business may pick-up in the autumn. However, until the Brexit deadline of 31 October has passed, it seems very unlikely that there will be a serious uptick in activity. Even then, we may also see people holding fire in anticipation of Boris Johnson reforming stamp duty.
Encouragingly, mortgage pricing continues to be extremely competitive. A number of lenders have cut rates again, while others are tweaking criteria to appeal to more customers. However, pulling together a deposit is still the biggest hurdle facing many buyers."
Joshua Elash, director of property lender MT Finance, says: "The market is flat and house prices are down again month-on-month, but the shift is relatively small.
However, there is a risk that come the autumn, the robustness of the property market will be put to the test. If Brexit or deflationary forces lead to the Bank of England increasing the base rate, there will be consequential pressure on homeowners to sell as they struggle to deal with meeting the cost of increased mortgage payments. In this scenario we would expect to see more significant downward pressure on prices."
Jeremy Leaf, north London estate agent and a former RICS residential chairman, says: "The Halifax figures always command respect, not least because they are well-established and have a good track record of accuracy.
They confirm what we are seeing on the ground - that there has been no real change to house prices recently and no significant change is expected as buyers, in particular, seem to be looking beyond Brexit irrespective of the outcome. Prices are being underpinned by shortage of stock, improving affordability and low mortgage rates.
What is more important is the number of transactions, which remain sluggish and protracted as sellers reluctantly come to terms with new market realities."
Dilpreet Bhagrath, mortgage expert at Trussle commented: "Brexit is undoubtedly playing a significant role in July's house price dip of 0.2% with buyers perhaps still hesitant to make any property move.
That said, with the Bank of Mum and Dad experiencing a collective £6.3 billion* in loans for the younger generation; first-time buyers would be well placed to make use of this stability to snap up their home. If you're in a position to buy, it's important to consider your own current and future financial circumstances to find the right mortgage deal to suit your personal needs."